Ben Chilwell has opened up about receiving mental health help after missing England's World Cup campaign through injury and says the stigma around it "needs to go".
The Chelsea left-back tore a hamstring just a couple of weeks before the tournament and missed out on going to Qatar as a result.
However, having regained fitness, he has been recalled by manager Gareth Southgate and the 26-year-old is determined to take positives from the experience.
"I've been talking to someone for a few years now, and I think the stigma around it is silly really, especially with men, and men in football in particular," he said, speaking before England's Euro 2024 qualifier against Italy on Thursday.
"The way it has helped me, I think it can definitely help everyone. The stigma is something that needs to go.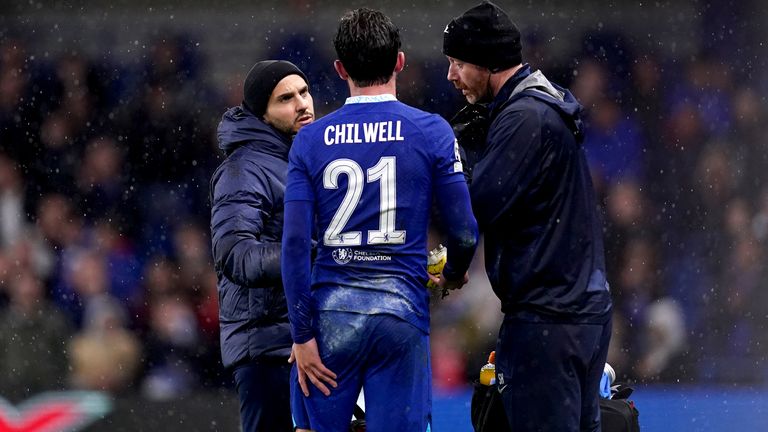 "Of course, mentally, it is very challenging. All footballers go through periods of their career when things are mentally challenging and you have to be resilient, be strong, go through it and come through the other side stronger.
"That's the way I've tried to look at things like the injuries I've had and missing the World Cup.
"I'm trying to spin it into a positive situation, so I can better myself mentally and physically, so when I come back playing I'm ready to help Chelsea and England as well."
Chelsea team-mate Reece James was also denied a place in England's World Cup squad due to a knee injury and Chilwell said having his fellow full-back alongside him during their rehabilitation helped.
"Very pleased to see him back, I know what a great player Reece is," added Chilwell.
"In a weird way it was nice to have each other during that time as it was someone you could share the pain of missing a World Cup with and we helped each other a lot from the experience."
Now he has regained full fitness, Chilwell is looking to challenge Manchester United's Luke Shaw for the starting position in Southgate's side.
"One of the keys to a strong squad and successful squad is when you have two or three in each position pushing each other as competition for places is important in all successful teams," he said ahead of the team's first Euro 2024 qualifier against Italy in Naples.
"We want to be one of those very successful teams in the near future so if we are going to have competition for places at left-back it can only be a good thing and hopefully me and Luke can push each other."