After almost three years of closed borders, this will reopen the country to those with work and study visas, or seeking to visit family.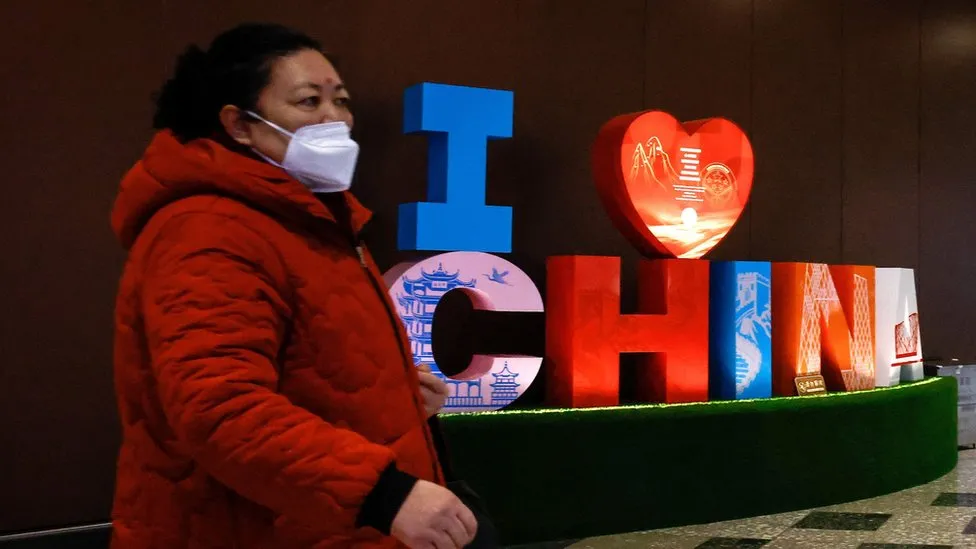 Travel overseas for Chinese citizens will become easier, the immigration authority said on Tuesday.
Covid has spread ferociously in the wake of restrictions being lifted.
Reports say hospitals are overwhelmed and elderly people are dying.
The true toll – daily case counts and deaths – is currently unknown because officials have stopped releasing Covid data.
Beijing had reported about 4,000 new Covid infections each day last week and few deaths.
On Sunday it said it would stop publishing case numbers altogether. But British health data firm Airfinity estimated China was experiencing more than a million infections and 5,000 deaths a day.
China is the last major economy in the world to move to "living with Covid" after three years of lockdowns, closed borders and mandatory quarantine for Covid cases and contacts.
The so-called zero-Covid approach battered the economy and made citizens weary of restrictions and repeated tests.
Resentment against the policy exploded into rare public protests against President Xi Jinping in November, which was followed by authorities dropping Covid rules just a few weeks later.
Closed borders remain the last major restriction. Since March 2020, anyone entering China had to undergo mandatory quarantine at a state facility – for up to three weeks at a time. That was recently reduced to five days.
But on Monday the National Health Commission announced that Covid would be formally downgraded to a Class B infectious disease on 8 January.
That meant quarantine would be axed – although incoming travellers will still need to take a PCR test. A cap on the daily number of flights allowed into China would also be scrapped.
Authorities said they would also "optimise" visa arrangements for foreigners wishing to come to China for work and study, as well as family visits and reunions.
It's unclear if that includes tourist visas, but officials said a pilot programme would begin for international cruise ships.
Chinese citizens wishing to apply for passports to travel abroad will also be able to do so from 8 January, the immigration authority announced on Tuesday.
Prior to the pandemic, the number of outbound tourists from China stood at 155 million in 2019, according to Statista. This number dropped to 20 million in 2020.
The new rules have been welcomed by many Chinese who will now be able to travel overseas again.
The country's top online travel agencies reported a spike in traffic within hours of the announcement. Many people will be hoping to visit family and loved ones during Chinese New Year, which begins on 22 January.
But many have also expressed anger over the sudden freedom after years of controls.
"I'm happy about it but also speechless. If we're doing this [reopening] anyway – why did I have to suffer all the daily Covid tests and lockdowns this year?" said Rachel Liu, who lives in Shanghai.
She said she had endured three months of lockdown in April, but nearly everyone in her family had become infected with the virus in recent weeks.
She said her parents, grandparents and partner – living across three different cities in Xi'an, Shanghai and Hangzhou – had all come down with fever last week.
Many have also expressed concern online about borders reopening as Covid cases peak in China.
"Why can't we wait until this wave passes to open up? The medical workers are already worn out, and old people won't survive two infections in one month," read one top-liked comment on Weibo.
People in cities like Beijing and Shanghai, which experience chilly temperatures in the winter, say they're running out of flu and cold medicine.
It's feared that hundreds of deaths may be going unreported as crematoriums are overwhelmed.
In the capital, Beijing, authorities say they are planning to distribute the Pfizer tablets, Paxlovid, in order to try and reduce the severity of infections and ease the pressure on hospitals. But health centres contacted by The Global Times on Monday said the drug had yet to be delivered.
On Monday, President Xi issued his first remarks on the changes, calling on officials to do what was "feasible" to save lives.
State media quoted him saying the country faced a new situation with pandemic control, and needed a more targeted response.
China's about-turn on how it manages the pandemic has put Mr Xi in a tough spot. He was the driving force behind zero-Covid, which many blamed for restricting people's lives excessively and crippling the economy.
But having abandoned it, analysts say he now has to take responsibility for the huge wave of infections and hospital admissions. Many have questioned why the country was not better prepared.
China will drop quarantine requirements for international arrivals from January 8, in a major step toward reopening its borders that have shut the country from the rest of the world for nearly three years.
Inbound travelers will only be required to show a negative Covid test result obtained within 48 hours before departure, China's National Health Commission (NHC) said in an announcement late on Monday. Currently, they are subject to five days of hotel quarantine and three days of self-isolation at home.
Restrictions on airlines over the number of international flights and passenger capacity will also be removed, according to the announcement.
The easing of borders is part of a broader move by China to dismantles what was left of its long-held zero-Covid policy, which was abruptly abandoned early this month following nationwide protests over its heavy social and economic toll.
The sudden policy U-turn caught the public and the country's fragile health system unprepared, causing widespread shortages of cold and fever medicine and leaving hospitals scrambling to cope with an unprecedented surge of infections.
Having rolled back lockdowns, mass testing and allowed positive patients to quarantine at home, the government is now scrapping other remaining preventive measures, including contact tracing.
China has sealed its borders since March 2020 to prevent the spread of the virus, keeping itself in global isolation even as the rest of the world reopened and moved on from the pandemic.
Foreigners have been largely banned from entering China, apart from a limited number of business or family visits. The NHC said it will further "optimize" arrangements for foreigners to visit China for work, business, study or family reasons and "provide convenience" for their visa applications.
The scrapping of travel restrictions is also a big relief for Chinese nationals studying or working abroad. Those who could not afford the soaring prices of flight tickets, lengthy hotel quarantines or onerous testing requirements have not been able to go home for three years.
Authorities also vowed to resume outbound tourism for Chinese citizens in an orderly manner, depending on the international Covid situation and the capacity of various domestic services – although it offered no time line or details on implementation.
On Chinese social media, many celebrated the long-awaited relaxation on international travel. Ctrip, a travel booking site in China, said searches for popular overseas tourist destinations on the platform jumped 10 times within an hour of the announcement of the new policy.
Others lamented the suffering, loss and missed opportunities over the past years.
"How many people who used to straddle the borders, from overseas students to workers making a living in Africa, had to change their life plans? How many families had been separated and barred from seeing their loved ones for one last time? How many three years do we have in our lives? These three years have changed us forever," a Chinese journalist wrote on microblogging site Weibo.
China's top health authority made the sweeping announcement Monday as an action plan for the downgrading of its management of Covid.
Since 2020, China has classified Covid as a Category B infectious disease but treated it as a Category A disease, putting it on par with bubonic plague or cholera and empowering local authorities to impose lockdowns and other restrictions. Now, it will be treated as a Category B disease, in the same category as HIV and bird flu.
The commission also changed the official Chinese name of Covid from "novel coronavirus pneumonia" to "novel coronavirus infection," an amendment it said is "more in line with the current characteristics and danger level of this disease."
"The less-deadly Omicron variant has become the dominant strain of SARS-Cov-2, and only a very small number of cases developed to pneumonia," NHC said in the statement.
China's top leaders have signaled recently that they would shift focus back to growth next year and have bet on the relaxation of pandemic restrictions to lift the economy.
China's current focus is to prepare sufficient medical resources, according to the NHC statement. Big and middle size cities need to quickly transform their "Fangcang", makeshift centralized Covid quarantine facilities, into designated hospitals with enough health workers staffed, NHC added.
NHC also didn't completely rule out the possibility for temporary and local restriction measures going forward.
"As we manage the outbreaks, we should pay special attention to real-time global assessment of the outbreak's intensity – pressure on the health system and general situation of the society – and take appropriate lawful measures to limit people's group activities and movement in a flexible way to flatten the curve," it said in the statement, adding that lockdowns might be re-imposed at nursing homes if the outbreak is severe.