Emma Hayes said she was proud of her players, but disappointed for the result after Chelsea's Women's Champions League exit to Barcelona, adding that the 'better team lost on the night'.
Chelsea were trailing 1-0 from the first leg at Stamford Bridge thanks to Caroline Graham Hansen's goal, and were given the tough task of facing opponents who had not lost a home game since 2019.
Graham Hansen saw Barcelona further ahead at the Nou Camp, before Guro Reiten replied for the Blues – making it 1-1 in the second leg. However, they were unable to find another as Chelsea were beaten 2-1 on aggregate.
But the Blues fought until the end for another goal, with the Blues manager pleased with how her side performed, putting their exit down to their first-leg performance.
"We're disappointed. I don't know too many teams that come here and as brave as we were. There's no denying you have to survive in the first part of the games," she said.
"It's an incredibly intimidating environment and I think my players managed all of the situations, they executed the game plan and we grew into the game. In the second half, we dominated… I'm proud of the players, just disappointed for the result.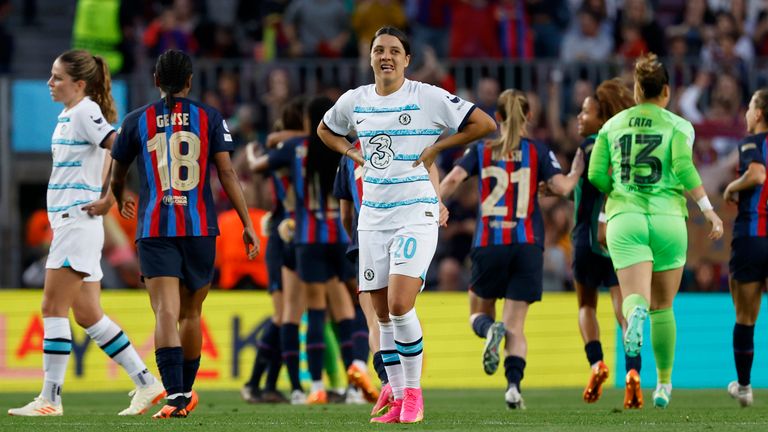 "I'm not frustrated. We're not going through because of the home tie. It's nothing to do with here. If there was a little bit longer in the game, I think we would have gone on to win it.
"I can't ask for any more. I don't know how many teams come here and put them under pressure. We had them panicking, I could hear it on the touchline, even their manager got booked.
"They're not used to that and that belief, for us, we have to keep finding in ourselves and I think were out of the competition because we conceded so early at home.
"Go and look at the previous results. They have an average result of four goals here. Go and look at the results against Bayern and Roma this year, Wolfsburg last year. I don't think you understand how challenging it is to deal with playing in this stadium with an unbeaten record in the last four years.
"If I've learnt anything in my career, it's that you have to stay in matches. Had they got a goal early on, it could have been a difficult evening so the fact that we were in that position allows the team to grow into confidence.
"Today I think the better team lost."
Despite the result, it does show the progress Chelsea have made since their Champions League final defeat to Barcelona two years ago, where they were beaten 4-0.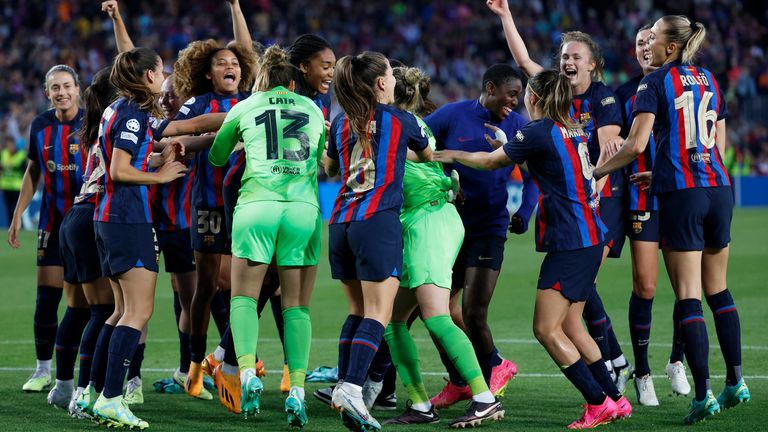 "When you lose a Champions League final like we did two years ago, you can understand that first leg being a challenge in the first part of the game," Hayes added.
"We've closed that now and today's performance was indicative of the team coming away and saying 'hang on a minute, we're better than this and capable of more'.
"I'm pretty sure the gap is closing across Europe and today's performance is evidence of that. I don't know many teams that have come here and performed like that.
"My dressing room believes a lot more in our ability as a result of these two games. I'm certain the gap will keep closing."
Chelsea will be disappointed, but they can hold their heads high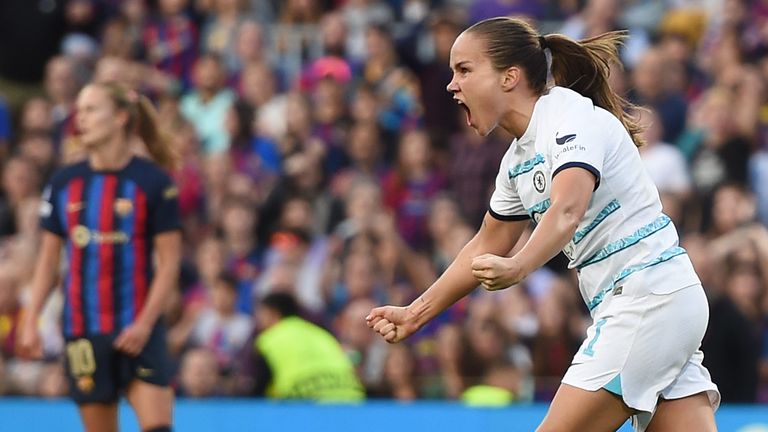 Sky Sports' Charlotte Marsh:
"With a second leg away at the Nou Camp, Chelsea were handed the toughest ask in European football – facing a team unbeaten at home in four years. They needed something from the first leg at home to stand a chance of getting a result in Spain.
"Unfortunately that wasn't to be the case. But while Chelsea will be disappointed to have missed out on reaching a second Champions League final, they can be proud of their performance against a Barcelona team widely regarded as the best on the continent.
"It showed us a different side of Chelsea. Domestically, we are used to seeing Emma Hayes' side dominate possession, having multiple chances and scoring a lot of goals. In Barcelona, they faced a team who did the exact same, but in a more imposing fashion.
"The tie proved how defensively solidity is just as important as goals. While it was not always perfect – particularly in the second leg – the players did what they had to do and gave themselves a fighting chance right until the end.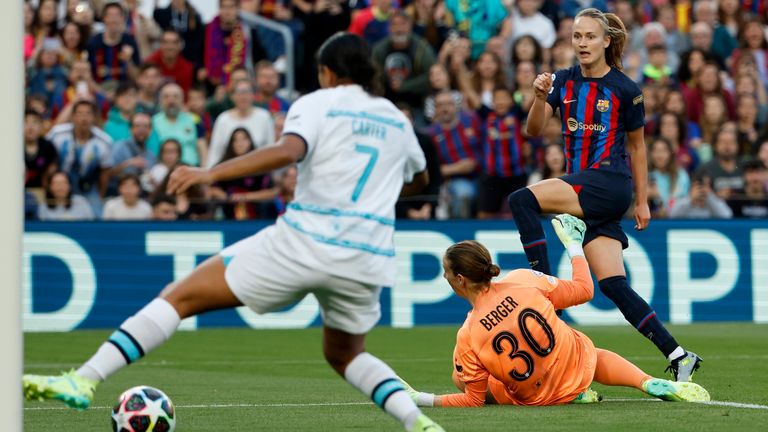 "When Chelsea faced Barcelona in the 2021 final, they were bulldozed early on and never recovered. While they conceded early on in the first leg on Saturday, they did not find themselves overrun. They kept together as a team and kept trying to find ways through.
"Of course, they did manage to breach Barcelona's defences in the second leg, and it was impressive how hard they continued to work to try and score again.
"While this was not their time, Chelsea proved once again that they can compete in those upper echelons of European competition. They pushed Barcelona hard for 180 minutes and were not far away from taking it even further.
"The final defeat was a painful one, but this semi-final tie shows just how much progress Chelsea have made and how that defeat has spurred them on.
"As the football cliché goes – Chelsea will go again next year."