Jurgen Klopp has seen signs of progress from Liverpool in their past two games but insists hard work and time are needed to recapture their previous highs.
The Reds are down in ninth place in the Premier League and suffered a bruising 3-0 defeat at Brighton earlier this month. But, ahead of their return to the Amex for a fourth-round FA Cup tie on Sunday, Liverpool secured a 1-0 cup win at Wolves and 0-0 draw with Chelsea to rediscover some confidence.
However, Klopp is still without a number of injured key players, including Virgil van Dijk, Diogo Jota, Roberto Firmino and Luis Diaz, and is under no illusions about the hard yards his players will have to go through before they can get back to the kind of levels that saw them challenging for four trophies last season.
"From here in this building we are 100 per cent ready to work through that," he said.
"I wish everything would be easy again, and we qualify for finals at the end of the season. But I experienced different things in my life, not all of them super positive, but the only thing I know is the better and clearer you behave in your down moments the better will be the high moments after that.
"You have to be respectful, show the right things, criticise but not going mad. You have to go through it and then there's not only light at the end of the tunnel, there are finals and trophies at the end of the tunnel. That's all there. Not now.
"The only problem you have in life is time – no one wants to invest time into that. This situation is not perfect but the basis of the last two games is something I can really work with."
Klopp: Salah is suffering due to unsettled forward line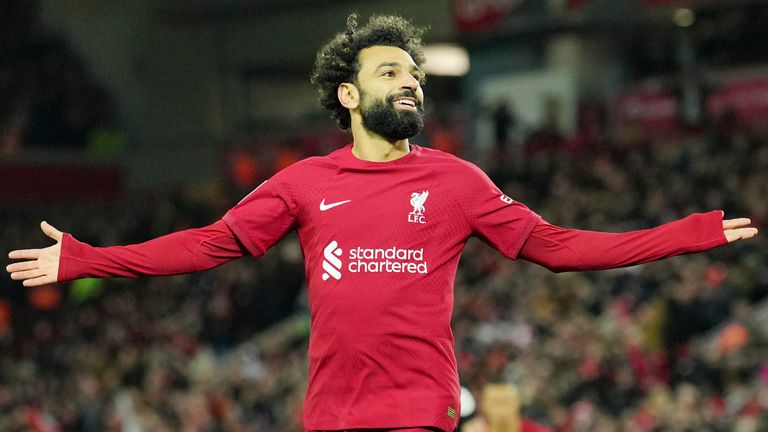 Klopp accepts Mohamed Salah is suffering from being in an unsettled forward line and is having to learn a different way of playing.
The Egypt international has scored 17 goals this season but his seven in 19 Premier League appearances is well down on his previous numbers at this stage of a campaign.
In his last three matches, the make-up of the front three has been different in each and what could be considered Klopp's preferred starting trio of Salah, Darwin Nunez and Luis Diaz have been on the pitch for just 343 minutes together this season.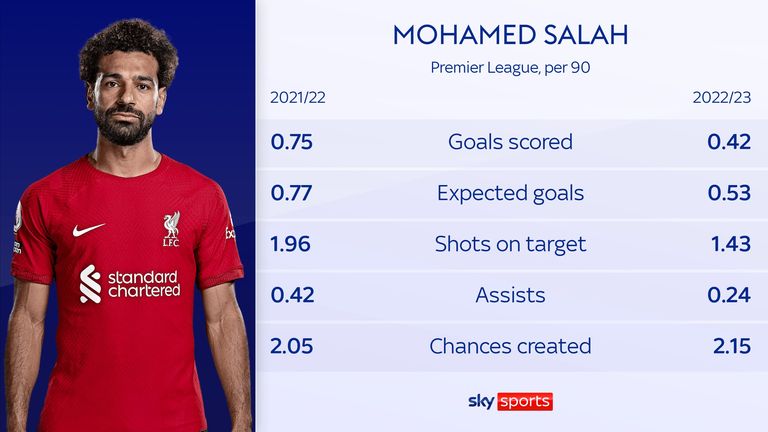 He will likely start in the FA Cup fourth-round tie at Brighton alongside Nunez and Cody Gakpo, one player who arrived in the summer and the other who is just over five hours' playing time into his Liverpool career having joined from PSV Eindhoven at the start of the month.
"Oh yes, of course he is suffering. It was a well-drilled machine the front three, everything was clear what we were doing," said Klopp.
"Everybody suffers from that. That's clear. It is specific, offensive play that requires a lot of work and a lot of information, and not always obvious information.
"You create a feeling about a lot of these things, about where your team-mate is and where to pass the ball without looking.
Gary Neville says Jurgen Klopp will 'sit tight' until the summer and, potentially under new investors, spend up to £200m on a summer rebuild of the team.

"That is not cool but we cannot expect just to be back to our best and win 5-0 and go to the next game. We have to work hard.
"In two or three weeks a couple more options will be available (more established players Roberto Firmino and Diogo Jota are set to return from injury) and we can mix it up.
"Now we have Cody as a really important asset, like a connector, he can play the wing and the centre as well.
"When Darwin is playing there he is obviously more high up, going in behind. We never played with a nine before, even when Sadio (Mane) played in the position he was dropping in moments.
"That's not Darwin's game, he wants to have other balls at his feet and he is a real handful there. It is all good if they would all be in and we could build something, but we haven't been able to do that yet."
Lessons from Brighton defeat
Klopp described the Premier League defeat at Brighton as the worst game he ever saw from his team, but says they have learned from that performance

Klopp describes the league meeting with Brighton as something of a reality check.
"The Brighton game was good for making 100,000 per cent everyone aware of this fact – that was the low point, where we were like 'OK, that's not allowed'," he said.
"It's hard work to get there again. If it was easy, everyone could have done it over the last five, six, seven years or whatever. You have to get into this situation again. It's what we're working for. I saw real steps in the right direction."
Looking ahead to Liverpool's return to the south coast and how they can make sure they do not suffer another bad defeat, Klopp called on his players to commit fully to their pressing tactics and prevent Brighton from capitalising on the large amounts of space, which were there for them a few weeks ago.
"That must be my first concern when I think about the starting line-up – how can we start, how can we get stability into the situation and then we can go from there," said Klopp.
"We are a pressing team, we can't sit deep and let them come. We can't do that. But we can decide how big the pitch is and that is what we didn't do.
"You remember the Brighton game – I never saw a bigger pitch as the pitch in Brighton. It was horrible. [Liverpool's defence] only dropped because we didn't have a challenge up front or in midfield.
"Massive pitch and that's what Brighton used. How many counter-attacks did they have, how many balls did we give them? Brighton did really well that day but there were a lot of moments where we had a proper hand in their good situations."