Artur Beterbiev has never lost a professional fight.
There are 19 men who have tried to beat him, two of them reigning world champions, but none have succeeded. None of them have even gone the distance with him.
Beterbiev served a reminder of just how dangerous he is, even at the age of 38, when he stopped London's Anthony Yarde in eight rounds after their tremendous world championship fight at Wembley Arena on Saturday night.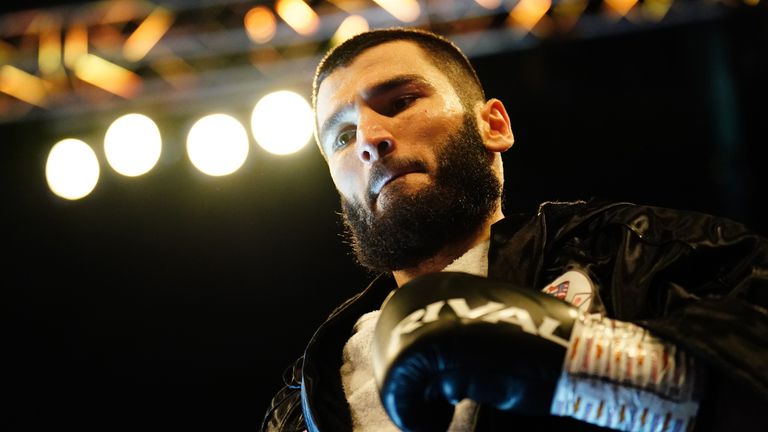 He defended his unified WBC, WBO and IBF light-heavyweight titles and is now targeting what could be the hardest fight of his pro career. Beterbiev wants to take on WBA titlist Dmitry Bivol in the bout that would decide the undisputed 175lb champion.
"I want Bivol. Right now, it's everything. In that fight, we'll have four belts. It's a really good fight, I think," Beterbiev declared after his latest victory.
The unified champion believes he can perform better than he did last weekend.
"Every fight is different. It's a different preparation. And the fighter is different, too. I can't say I did a very bad fight," he said after his thrilling contest with Yarde.
"But if I could do it again, I'd do it better. But I feel good. To be honest, I prepared for all the punches he did. That's why I could come back."
Beterbiev's next opponent, however, could be another Briton.
Callum Smith won his WBC eliminator in dramatic fashion as he stopped Mathieu Bauderlique with a brutal left hook

After beating Mathieu Bauderlique last August, an impressive four-round knockout win, Liverpool's Callum Smith is the mandatory challenger for Beterbiev's WBC title.
Smith expects to take a tune-up fight in March, and then push for his shot at the unified champion.
"I've done my part. I've become mandatory so I can sit and wait and fight for three of the belts," he told Sky Sports.
He wants a respectable opponent in the spring – "it's got to be an opponent that makes me want to get into camp, makes me want to train hard" – even though it will be a fight Smith cannot afford to lose.
"It's a bit of a tricky one. But if I'm good enough to beat Beterbiev, which I believe I am, I should be good enough to beat anyone else I the meantime, as long as I stay focused and motivated," Smith said.
"I feel like I am, I feel like I'm enjoying training more. I feel like I'm enjoying the improvements I'm making. I should be okay."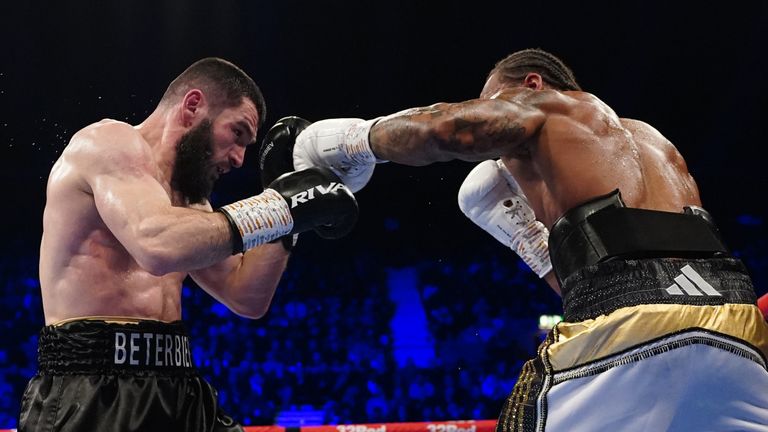 As formidable as Beterbiev looks, Smith, a former super-middleweight champion, believes he has all the tools to defeat him.
"I believe I can beat anyone on the planet," Smith declared. "I believe I can win the belts as well."
"He's European style, applies pressure but doesn't just race forward, he's clever how he does it and obviously heavy-handed," Smith continued. "He has been hurt, he's been put over twice as a professional and he's not invincible.
"I've seen other fighters hurt him and put him over, I fully believe I can.
"I'm in my peak years now and the time to beat him is now."
Smith will go wherever he needs to to get the fight.
"I'm the challenger. I'm not going to be able to call many shots. I think if we don't come to an agreement it goes to purse bids anyway regardless. I just want to fight," he said.
"I don't think the venue matters too much to myself. I'll fight, whether I have to go to America for it, England, either or. I just want that fight. That's the goal. That's why I'm still boxing. That's why I'm going away to camp. It's to be a two-weight world champion.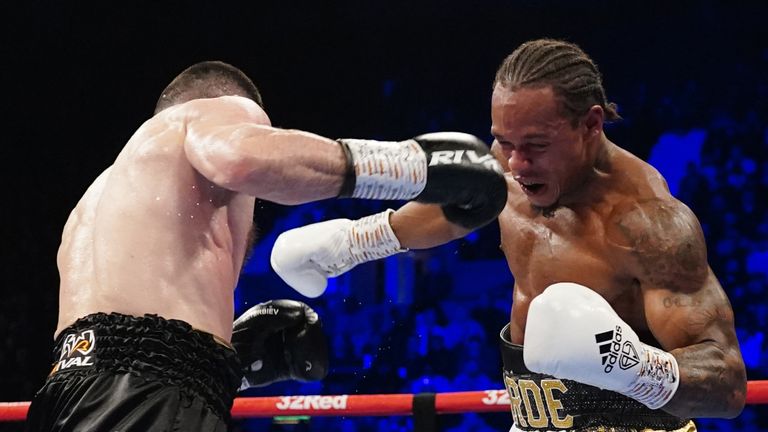 "I've always believed I'm good enough and big enough to do it. I made the decision move up, carry on and I'm very close to achieving it."
He'll pursue that goal, even it means taking on one of the most ferocious punchers in the sport.
"I'm in boxing because when I'm done I want to sit back and say I achieved everything I was capable of doing," Smith said.
"Once you've been at that level you're not really satisfied with anything less. So if I didn't believe I could get back to where I was, I wouldn't be sitting here."
Thinking of his own youth advantage compared to the 38-year-old champion, he added with a smile: "Age is age. It will catch up to him at some point. And hopefully it's the week before he fights me!"